Weather you need to outsource the development on your CakePHP project, or if you're starting a new one, our team of seasoned web developers can save the day.
We will make sure we don't waste your time. This means we will carefully test our output, and think before sending you emails.
You will get a login to our project tracking web application where you'd be able to monitor the progress of your tasks.
You will be paying to our US company so you'll have convenience and security of dealing with a US company while you get the prices of an Eastern European service provider.
Our working hours overlap with US and UK time zones, so there's plenty of opportunity to communicate your requirements.
Our Development Tools
We use   testing procedures to save your time
Why Us?
We've based in Europe, which means more than just a convenient time zone. The way we do our development services business is basically what an average US or UK client would expect. Breaking an important deadline is terrible as it sounds, as is delivering code which hasn't been thoroughly tested. Our communication skills are more than decent. We provide piece of mind while keeping the quotes at an absolute minimum.
To make sure we understand what you need, we'll create a mockup using the most advanced online mockup tool MockFlow. Below is a nice sample of a mockup we could do if a client wanted a Twitter clone. You can click on the picture to see the full size mockup with the options our clients have.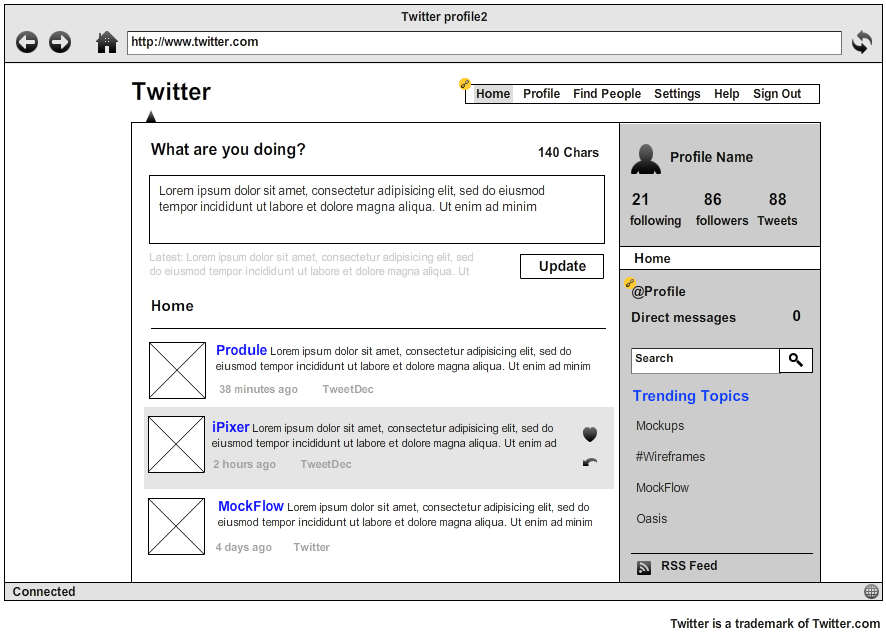 Wouldn't it be nice if you knew exactly what developers are doing? With our online project management solution you can do this. You can see if a particular task is done, or is being done, and you'll be able to asses for yourself how much remains.
Get Things Done
As beautiful as CakePHP is, it cannot cover for every situation. As you might have imagined, our expertise doesn't end with CakePHP. We have a wide array of software development and web design talent on board. This may come in handy should you need more development work done, be it a jQuery fancy user interface or a full featured Windows desktop application.
We're in this for the long term business relationships, so our quotes will be modest, and our quality of service exceptional. Please fill in the form on the right to get a free quote or just have a free chat with our experts.