Just starting out? We'll get your free website online instantly.

Experienced reseller? We'll integrate your existing platform with any supplier.

Looking for suppliers? We'll help you out, we've worked with hundreds.
Dropship services companies you might have encountered are littering Google, eBay, Amazon with thousands of stores selling identical merchandise from a limited set of suppliers they work with. In average, they have thousands of users working with just 100 suppliers – while there are really many more excellent suppliers out there you could use. We can help you with your own unique angle on dropshipping to make your store stand out.

Why choose us
We will integrate your store with any supplier you want to use. This gives you access to all suppliers worldwide, not just the ones we've worked with.
We will send your products to eBay, Amazon, Google Shopping for maximum reach, and help you out with many rules and obstacles those marketplaces present.
We will do custom supplier research just for you, and suggest the best suppliers for your store. Submit the contact form specifying what you're selling and we'll work together to optimize your inventory.
We will assign you with an account manager. He will invest ongoing effort to make sure your dropship business works out.
Fully managed solution – you will never have to spend one second figuring out how to use our system.
We take no commission.
Custom requirements will be executed promptly.
What you provide
Suppliers you want to work with. We have composed a list of selected suppliers for you. Please scroll down to start choosing suppliers.
What we provide
We'll get the products to your store.
We'll synchronize the product data daily with suppliers to make sure you don't sell products which are out of stock.
If you don't have a store, we will provide one for free. Click here to see demo.
We can optionally take care of order fulfilment, supplier & marketplace relationship, and handle e-mails from your customers.
Our account manager will stay on top of things and work with you to make your business a success.
We have a decade of experience automating product stock status, pricing, images, and other product data updates.
You will get your free e-commerce website within hours from form submission.
How we do it?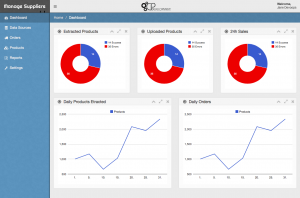 We've worked with hundreds of suppliers out there. Our dropship specialists will suggest the particular suppliers that are a good fit for your business. Once you pick the ones you like, or add some we haven't worked with, we'll start integrating that supplier's inventory with your store.
We've created a generic product data extraction engine which can get product data from any supplier website and post it to any e-commerce store. We have so far handled more than a hundred suppliers for our clients. If a supplier or your e-commerce platform is not supported by other dropship services, we'll handle it within 48h.
We work around the clock to keep the product data synchronization process flawless. Our uptime is 99.5%, and we keep it that way so you don't end up selling a product which is not in stock. You will get quick, top quality results at competitive pricing. But don't take our word for it, sign up and see for yourself with a full money-back guarantee.
Pricing
FREE
COMPLETE
CUSTOM
Your full featured e-commerce website
 
 
 
Sales support
 
 
 
Supplier selection assistance
 
 
 
Product Variations
 
 
 
Custom Pricing including MAP
 
 
Automated product upload & inventory update
 
 
Merge, move, rename supplier categories
 
 
Sell products on eBay, Amazon, Google Shopping
 
Let us work on your website
 
Add any custom supplier we don't have on the list
 
Please sign up or just enquire using the contact form
Pricing summary
FREE
Submit the contact form with your requirements to get our best price.
Submit the contact form with your requirements to get our best price.
We will provide you with your e-commerce website completely free of charge. Please submit the contact form and you will get your free website instantly. This way you can look around, talk to us if you have any questions. If you like what you see, we can move forward to put products into your new website and on eBay, Amazon, Google Shopping. We can also do this using your existing website, if you have one.
If you're interested in additional services, or would like free assistance with choosing suppliers, please submit the contact form below with your requirements. We guarantee the lowest price – we will beat any competitor's quote. In the unlikely event that you're not satisfied with our service, we offer a 100% money back guarantee, no questions asked.